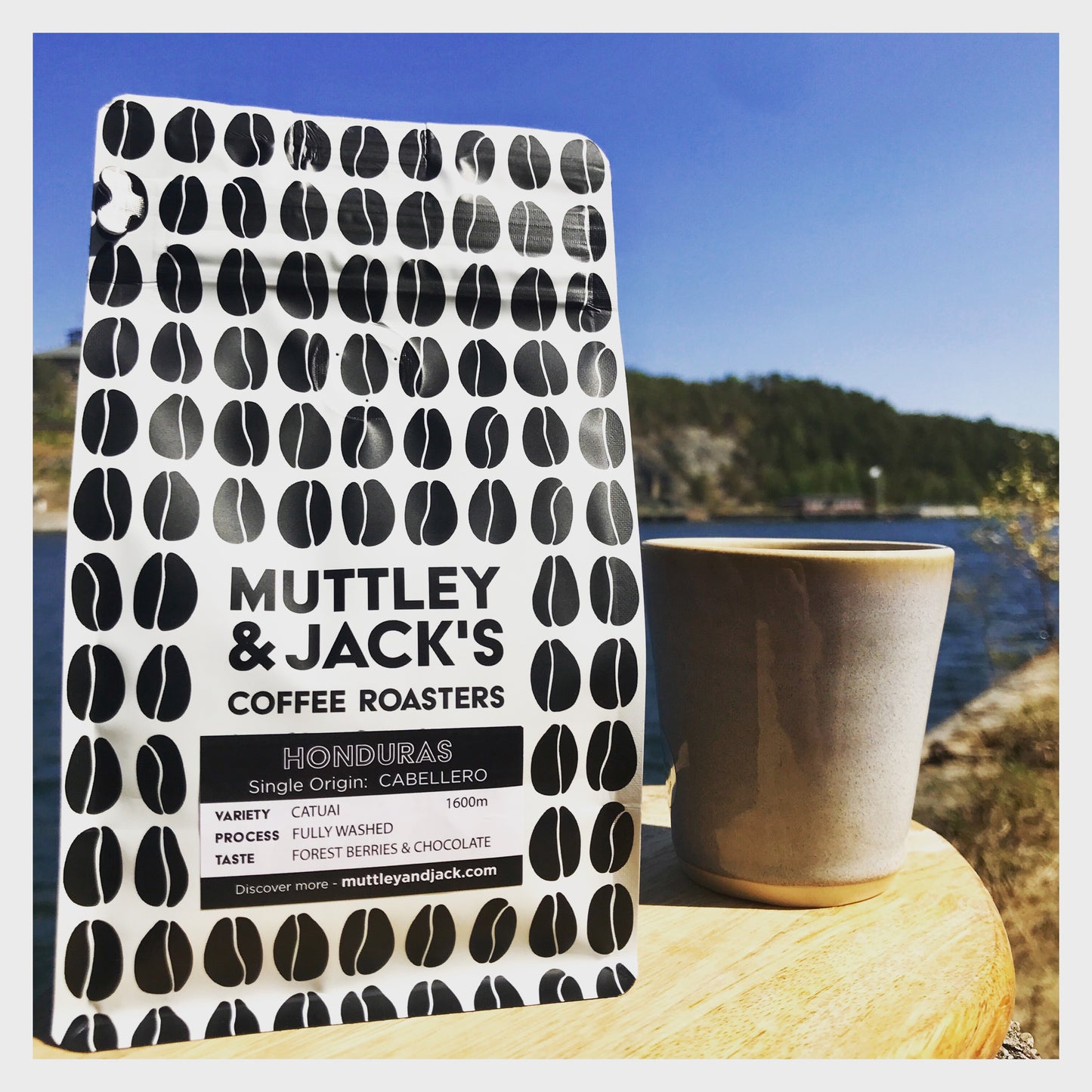 Honduras  Single Origin - Caballero JR #27   - Fully Washed
Honduras is a small, but breathtakingly beautiful country, located in the heart of central America. Its location and the quality of it's soil make it a perfect place to grow coffee.  Our coffee comes from a farm in the Marcala region, run by the Caballero family, who have grown coffee here for 4 generations.
Variety: Catuai
Catuai is a sweet, medium sized, variety of coffee that originated in Brazil as a cross between Yellow Caturra and Mudo Nova. Because of high yields t is now one of the most widely grown varieties in Latin Ameriica. The coffee cherries don't fall off the branches easily which is useful in areas with strong winds.
Origin: Marcala - La Paz 
The Marcala region in Honduras' Montecillos mountain range. Marcala coffees have a unique character, often featuring bright citrus, ginger, lemongrass and sugar cane as well as many other nuanced flavours. 
The Producers 
Marysabel Caballero and her husband Moises Herrera are the duo responsible for growing this coffee. Together, they grow coffee on microlots spread across 200 hectares in and around Marcala. 
They work together with Marysabel's father, Fabio Caballero, who inherited the land from his father, who was one of the pioneers of coffee cultivation in Honduras.
The Caballeros are extremely committed to the environmental sustainability of their farms. There is no use of pesticides on the farms as fungus and other coffee diseases are controlled by controlling the amount of shade.
Oranges, avocados, flowers, bananas and other fruits are also grown at the farms, but mainly for the pickers to eat and to create biodiversity at the farms that ensures good growing conditions and shade for the coffee trees.
Don Fabio, Marysabel and Moises has always focused on quality and have contributed to the growing reputation of Honduran coffees. They won 3rd price at the annual SCAA "Coffee of the year" competition in 2010. They have also done well in the Cup of Excellence for many years.
Taste Profile
Milk chocolate, together with blackberry and gooseberry are the dominant flavours in this cup. There are nuances of other berries, such as blueberry and cranberry in the lingering aftertaste.
Body is medium and smooth.
Cupping Score - 87
Any score over 80 means that a coffee is considered 'speciality'. Over 85 and it's really something special. This coffee has been awarded a cupping score of 87. 
Processing - Fully Washed
This coffee is fully washed, which allows the delicate qualities of the acidity and sweetness to shine through. The coffee cherries are hand picked and then sorted to remove the underripe and overripe cherries. The skin and flesh are removed mechanically from the coffee bean and the remaining bits of pulp are removed in a 12 hour fermentation. After fermentation the beans are washed again for a further 12 hours in clean water. The washed beans are dried in the sun or shade for 11 - 20 days on raised drying beds. When they reach the desired level of dryness they are removed and stored until ready to be shipped.
Fika Pairing
All Muttley & Jack's coffees are paired with a suggested recipe, created especially to match the flavour profile of the beans. Enjoy this coffee with Gooseberry Jammy Dodgers - a homage to the gooseberry notes in the coffee and a throwback to one of our childhood favourite cookies.
Read the recipe.
Muttley & Jack's Coffee Roasters
Muttley & Jack's is a prize winning coffee roastery based in Stockholm. Each month members receive a box of freshly roasted specialty grade coffee with an education pack to help coffee lovers and the coffee curious get more out of their coffee.
The 'Coffee Experience' packages together speciality coffee, travel and education. Discover more about 'Coffee Experience' membership.
https://www.facebook.com/muttleyandjacks